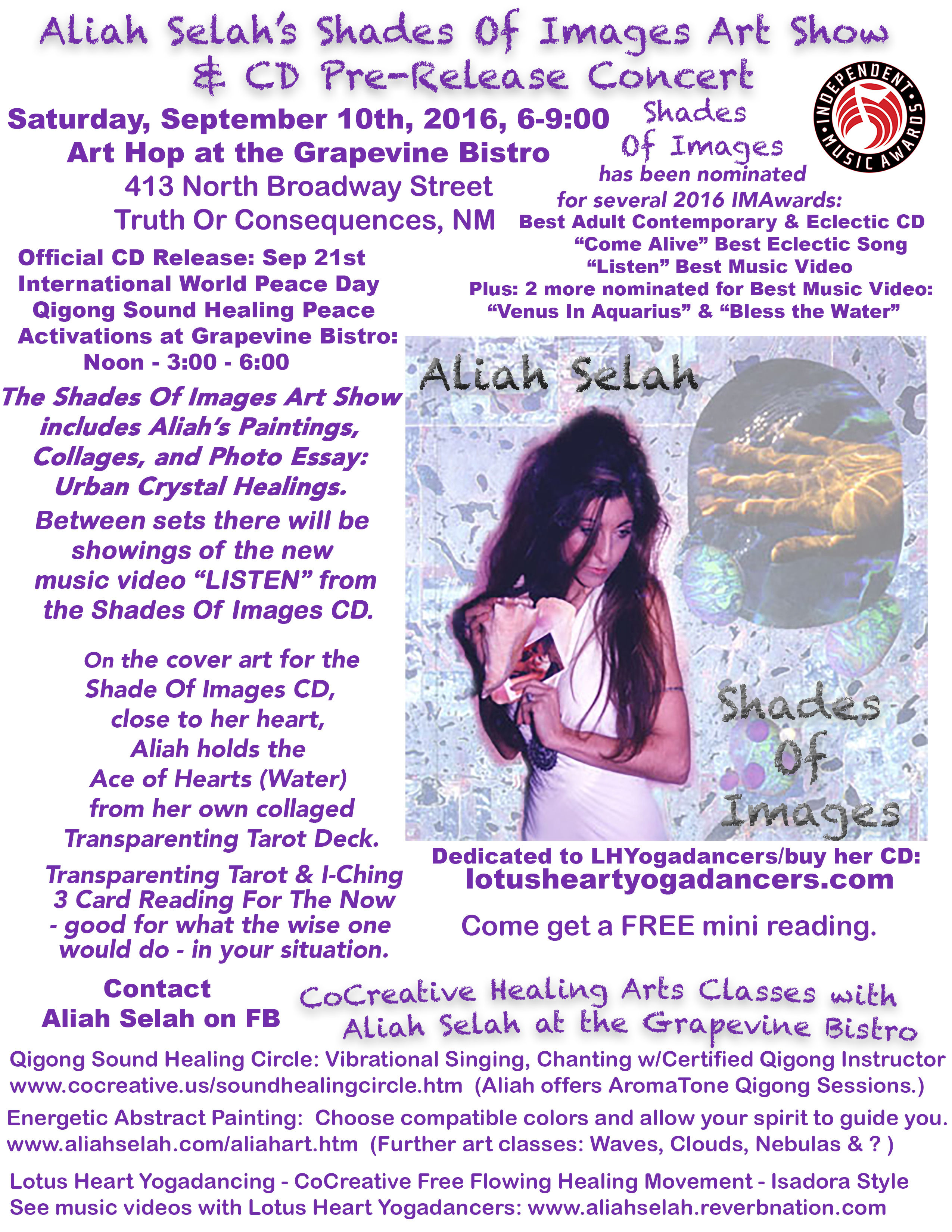 "Where Light Shines"
was #1 in July 2014
and now sits at #2
on the Santa Cruz ReverbNation Electronica Chart.
Some Reviews


ACROSS THE UNIVERSE 2013 HAS BEEN NOMINATED FOR A
2013 HOLLYWOOD
MUSIC AWARD IN JAZZ

"Across The Universe 2013" is #1 on the
ReverbNationTop 10 Electronica Songs in Santa Cruz.
And the music video for it is now on YouTube.

Thanks for all your LIKES & PLAYS - Blessings.

Aliah is getting 300+hits - both these web sites say.
So thank you for your visits...
the new CD coming soon & gigs
as we focus on ABLETON.

WEB RADIO AIR PLAY:

LA Radio Station Indie 104 is playing:
"What Is So?", Dig Deep",
& "Little Shelf".
request them to play these songs HERE.
(http://indie104.serveftp.com/playlistA.html)


Radio UK International has just added
"What Is So?" & "Listen"
to their playlist.

Radio UK International is a new internet music radio station broadcasting worldwide 24/7 from the United Kingdom. Radio UK International was founded by John Hicks and Lee Williams who co-founded Europe's number one country music stations and jazz station. RUKI will offer a wide choice of music, though it will appeal primarily to an audience over 22 years of age.
They have syndication agreements for International Showcase Hour with Radio Bracknell Forest, Radio Basingstoke and the new Radio Alton, which gives them access to around 100,000 listeners
in the UK.
Que 98.2 FM

Online Smooth Jazz Radio is featuring

"SILENCE FILLS SOUND"
on their playlist.

HKGFM.net
has put "What Is So?" , "Listen" , &
"Dig Deep" on file - in rotation.
HKGFM.net is a progressive online radio station that has been heating up the airwaves for over 2 1/2 years now. The Hong Kong-based station has eight channels, all appealing to a variety of listeners. This is the perfect chance for artists to get their music heard in over 150 countries, including: Hong Kong, USA, Canada, Australia, Germany, China, Singapore, UK, Sweden
and the Netherlands.

Through its association with The Underground, the station has a channel specifically for indie alternative music. It has featured 100 different artists on The Underground and continues to add new tracks daily. In addition, HKGFM recently added artists tracks to its ChillOut channel, to feature a wider range of genres. Tracks are put into the station's normal format and played in on-air rotation 24-7.


It is heard all over the world...
and especially known in Europe -
with those who love the blues.


About the song "Little Shelf"
also being called... "SPEAK"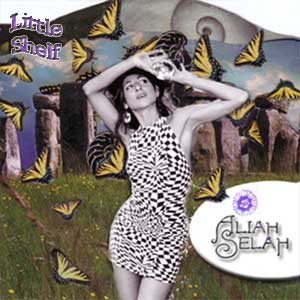 "Little Shelf" is an Ambient Down Tempo Sung &
Spoken Word Atmospheric Performance Art Piece
that came out as a jam that magically happened
at the end of Aliah's recording session from her
1st CD Acoustic Perfume.
Later, she and producer Mitch Watkins
added his emu guitar over dubs and her vocals -
all magically done in one takes as well.
And when she was advised that such a song did not belong on an AAA CD -
Aliah put it first - as an atmospheric opening setting the vibe for her next solo CD

Little Shelf (Speak)

DJ's liked the song - they just didn't know where it fit. They said it was in the style of "Alternative Jazz"
but that there was nothing out there like it in "Alternative Jazz"... then after putting it on Broadjam it reached

#1 ON 4 Different Charts on Broadjam
Broadjam Top 10 Lists in 2004:
Tuesday, June 01, 2004
"Little Shelf" has entered the California Top 10 List and reached #1
"Little Shelf"has entered the West Top 10 List and reached #1
"Little Shelf"has entered the Production - Other Tempo Top 10 List and reached #1
"Little Shelf"has entered the Production - Female Vocals Top 10 List and reached #1

Then, it was nomonated for a
2007 LA Music Award and
2008 Hollywood Music award.
She is now choreographing it as the
DANCE OF THE 5 ELEMENTS for the film CoCreating.us.