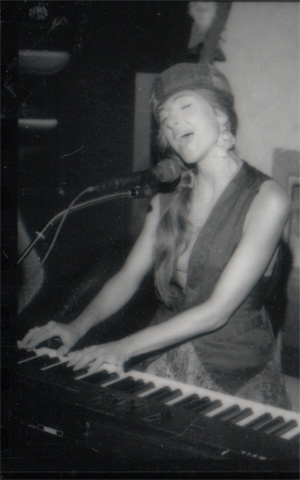 Spreading Miracles at Miracles Café
Aliah Selah's Thursday night (8-10pm) performance is a hidden treasure of the San Diego area. This magnificent young woman inspires all who happen upon her singing in the Moonlight on the outdoor patio of Miracles Café in Cardiff by the Sea. After hearing her songs a few times, I have of course developed some favorites but perhaps the first song that I began singing along to was "Who We Is", a soulful piece about being true to yourself. Others include "Bless The Water" about Tibetan Monk's who came to bless Barton Springs (in Austin where she last lived) as developers threaten the delicate watershed eco-system. According to Aliah, the companion song "Luna: Tree Of Life" was given to her by Spirit in a dream - where a Native American Medicine Man asked her to thank Julia Butterfly Hill who lived in a Redwood tree she named "Luna" for 2 years to help save the 1000 year old forest. "Communication Blues" and "Dandelion Wish" are another pair of companion songs that ironically enough are about developing interdependent love. Another powerful song, "Bring It On", is a great tune that Aliah was inspired to write because of the recent need again for peace activism that's been going strong since the 60's, if not way before. She introduces it with: "The peace movement is older and wiser now and ready to take on those who are foolish to think that anyone can win a war – I say we're ready, so. "Bring It On!"" She ends the song with a chant for peace. She is full of vibrant healing energy. Her positive, funky, rock songs are really catchy and ring true as much as her poetic mystical ballads - layered with meaning that help us to feel calmer about our changing world. Her music celebrates the now in all its glory… while her message of peace and healing lingers.

-Catherine Deane
Vision Magazine/ Nov 2003
THIS IS WHEN ALIAH'S SONG "WHAT IS SO?" WAS PLAYED ON THE RADIO
AS A PRO-PEACE SONG - AS THE WAR FIRST BEGAN.
SHE IS MAKING A MUSIC VIDEO OF IT NOW.


Quotes from a SHADES OF IMAGES CD review:
"A vocal beauty and lyrical talent that brings to mind
the haunting mystery of the old Jefferson Airplane.
Rich with her marvelous blend of vibrant rock and soothing mystical ballads..
it will help to heal the pain of letting go."

-Chiwah
The Light Connection
February 2005
Currently, Aliah is in the San Francisco Bay Area and feeling Grace Slick's energy coming through a new rock project
that's just beginning to bud. Maybe Chiwah knew that was coming with the STEPPIN' OUTA DA BLUR CD?
Stay tuned... some amazing musicians are coming together now.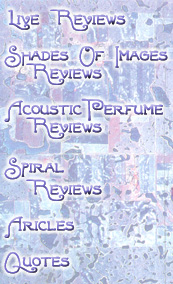 So what's: "Spiritual Activism"?

Together with her partner Paz, Aliah has co-produced many public advocacy TV shows.

Their show P.E.A.C.E. (Planet Earth Alignment For Creative Evolution)
evolved into a non-profit and received grants to produce sacred instructional videos (Yoga & QiGong)
and then evolved into Peacefarm Productions and is in pre-production with a
new TV show:
CREATIVE EVOLUTION
click Earth-Head below for info.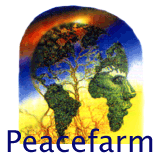 PRODUCTIONS


FEB 24th 2011
ALIAH ASKED EVERYONE IN THE CROWD TO FOCUS ON THE LOVE THAT WILL GUIDE US THROUGH THE TRANSITIONS WE ALL FACE NOW IN THE UNITED STATES & THE WORLD.
TOGETHER, WE HAVE TO STAND UP FOR MANY OF THE WONDERFUL PROGRAMS THAT ARE BEING THREATENED TO BE CUT - THINGS PEOPLE WHO HAVE LOST THIER HOMES & JOBS NEED NOW...
AT AN UNCUT RALLEY IN SANTA CRUZ AT THE S.C. COURT HOUSE.

ALIAH GOT EVERYONE SINGING...
"WE ARE ONE - IN THE INFINITE SUN - FOREVER, AND EVER AND EVER!"
AND EMPOWERED EVERYONE TO SEE HOW AMAZING WE ALL ARE WHEN WE COME FROM A PLACE OF LOVE & ALLOW THAT FORCE OF LOVE TO BE OUR STRENGTH - BECAUSE THEN WE SEE HOW CONNECTED WE ALL ARE WHEN WE - "STAND & BE COUNTED" -
A very inspiring book b David Crosby & David Bender -
The Dramatic Story of the Artist and Events that changed America.


The Austin Review
about a Pro-Peace Rally in Austin
(Article opens with quote by Aliah Selah)

"Only make love with those who make peace.
(That's what my sign said - this is what I said.)
We can make our cars run on soybean oil. (biodiesel).
It smells like French fries," said Aliah Selah,
self-described 'spiritual activist', who gathered with over two hundred other Austinites to protest a potential war with Iraq on Tuesday, December 10."
-CHARLES GANSKE
February 12, 2003